Students in the Bachelor of Arts Program:
Receive a well-rounded education in all areas of the theatre.

Are taught by full-time professional instructors.

Have the option of choosing a second major for related study.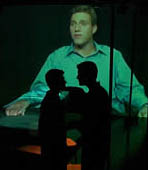 ‌Students in the Bachelor of Arts degree program must meet all the requirements of the College of Arts and Sciences, and then choose theatre as their major. Students choosing the BA degree must first take five core courses. These core courses include classes in acting, stagecraft - scenery, costumes, lighting, and prop construction, and theatre history. Following the completion of these courses, the student is allowed to explore other elements of the theatre from a number of different courses. The BA degree is developed to give the student a well-rounded background in all areas of theatre.