Lyricist and Composer, UM '53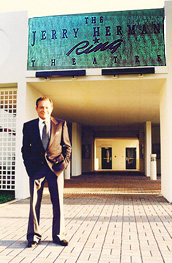 ‌‌Hit Broadway musicals Hello, Dolly!, Mame, La Cage Aux Folles and Mack and Mabel are home to some of the most popular musical heroines of all time, and have given Jerry Herman the distinction of being the only composer-lyricist in history to have had three musicals that ran more than 1,500 consecutive performances on Broadway.
In 1961, Jerry composed the score for his first Broadway musical Milk and Honey. The success of the show garnered him his first Tony Award nomination and sky-rocketed his career. In 1964, Jerry, along with Carol Channing, helped to produce the Broadway hit Hello, Dolly! The show swept the Tony Awards, winning 10, and continued its run from 1964 to 1971 including more than 2,500 performances.
His credits also include the Broadway mega-hits Mame(1966), Dear World (1969), Mack and Mabel (1974) – Jerry's favourite score, The Grand Tour (1979), which received two Tony nominations for Best Musical and Best Score, and La Cage Aux Folles (1983), which is considered to be one of Jerry's greatest accomplishments earning nine Tony nominations, including six awards for: Best Musical, Best Actor in a Musical, Best Director of a Musical, Best Book, Best Score and Best Costume Designer. In 1985, Jerry's Girls, a collection of Jerry's favorite Broadway songs, made its debut on Broadway.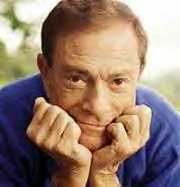 ‌Jerry's credits extend beyond Broadway, with his work in television and film, as well as the release of several albums. In1996 he wrote songs and collaborated with his friend and former colleague Angela Lansbury to produce Mrs. Santa Claus. Jerry also united with comedienne, entertainer and singer Carol Channing to complete the album Hello, Dolly! with Carol Channingthat contained music from the 1964 Broadway hit.
Throughout his career, Jerry has acquired a string of awards and honours that include Tonys, Grammys, Drama Desk Awards, the Johnny Mercer Award, the Richard Rodgers Award, the Oscar Hammerstein Award and the Frederick Lowe Award. In the '70s the Ring Theatre at the University of Miami was renamed the Jerry Herman Ring Theatre, as a tribute to our alumnus. In 1981, he was inducted into the Songwriter's Hall of Fame and the Theatre Hall of Fame in 1986. In 2009, Jerry Herman won the Tony Award for Lifetime Achievement.
Listen to a one-of-a-kind live interview with Jerry Herman on The American Theater Wing's Downstage Centre, where Jerry performs excerpts from some of his most famous compositions. In particular, Jerry recounts how he created one of his favourite songs "I Won't Send Roses" which is the heart and soul of the Sennett-Normand love story in Mack and Mabel.
Jerry Herman Authorized Website
Biography by Jackie Maxwell and Sue-Ellen Boyes, origianlly for the Shaw Festival.