The Department of Theatre Arts regularly hosts master classes with artists, actors, producers, casting directors, designers, and directors from around the world.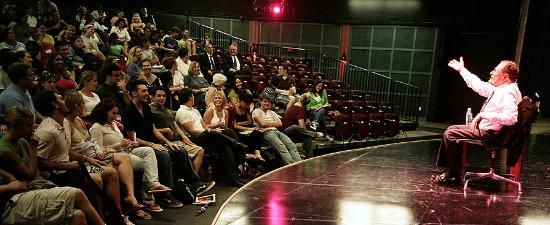 ---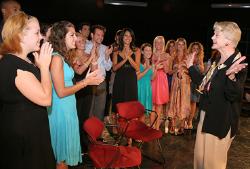 ‌Award-winning Actress Angela Lansbury Addresses Theatre Arts Students
It was the Department of Theatre Arts version of Inside the Actor's Studiostarring Angela Lansbury. The award-winning stage, film and television actress participated in a Q&A with University of Miami Theater students at the Jerry Herman Ring Theatre. Lansbury also received an honorary PhD from the College of Arts & Science.
---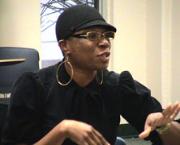 ‌Aisha Hinds Returns to UM
Aisha Hinds (True Blood, Assault on Precinct 13, The Shield, Medium, CSI:NY, NYPD Blue, Invasion, etc.) and BFA Acting 1998 visited the Senior class recently. She told the class of her great journey over the past ten years in the profession.
---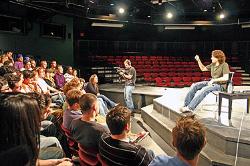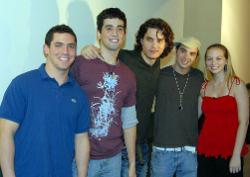 (From Left) Anthony Comis, Mark Ramos,
John Mayer, Devin Bing and Holly Williams
Grammy Winning Singer-Song Writer John Mayer Visits UM
Grammy winning singer - song writer John Mayer talked with Department of Theatre Arts students at the Jerry Herman Ring Theatre about his work and his music. The session was recorded for broadcast on MTV U. Several music theatre students were selected to attend his concert as his guests.
The lucky students met with John Mayer backstage prior to his concert, Winter Tour '07, at the University of Miami. Their evening at the concert and the accompanying events were taped for MTV U.
---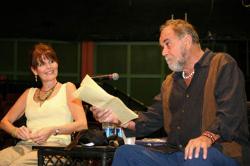 ‌Lucie Arnaz and Laurence Luckinbill
Husband and wife actors Lucie Arnaz and Laurence Luckinbill held a discussion with University of Miami theatre students at The Jerry Herman Ring Theatre and Alvin Sherman Family Stage. The couple discussed how to make a life in the theatre. Their daughter, Kate Luckinbill, is a 2007 graduate of the B.F.A. in Performance program of UM's Department of Theatre Arts.
---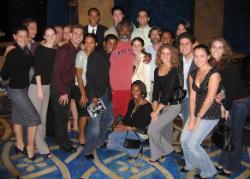 ‌André DeShields
André DeShields visits with students from the University of Miami's Department of Theatre Arts following his performance of King Lear with the Classical Theatre of Harlem.
---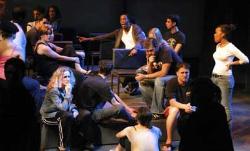 ‌Michael McElroy
Michael McElroy directs UM students in the musical Violet. Michael recieved an Obie nomination for his performance in the original production and was nominated for a Tony for his performance as Jim in Deaf West's Big River.
---
Recent Guests
Jason Alexander

Lucie Arnaz

Lindsay Warren Baker

Elizabeth Baldock

Alan and Marilyn Bergman

Jason Robert Brown

Barry Brown

Jo Lynn Burks

Craig Carnelia

David Clemmons

Gene Columbus

Anderson Cooper

Nilo Cruz

Jason Danieley

Raphael de Acha

André DeShields

Susan Egan

Adam Epstein

Nancy Dussault

Richard Gere

Paul Gilger

Jay Goede

Jason Graae

Tim Gulan

 

Wynn Handman

Mark Hammil

Marvin Hamlisch

Jeffrey Hatcher

Steve Hayes

Marcy Heisler & Zina Goldrich

Aisha Hinds

Amanda Jacobs

Kevin Kennison

Jack Klugman

Sarah Knowlton

Mark Lamos

Angela Lansbury

Dawnn Lewis

Ray Liotta

Andrew Lippa

Kathleen Logbill

Laurence Luckinbill

Michael Mastro

John McDaniel

Michael McGoff

Michael McElroy

 

Karen Morrow

Karen Mason

John Mayer

Marin Mazzie

Chris McGovern

Arnold Mittelman

Ann Morrison

Paige O'Hara

Donald Pippin

Jon Secada

Strange Fruit

Angelica Torn

Shorey Walker

Arthur Whitelaw

Michael York