‌Welcome!
We know you will find a great deal of information here that will help you whether you are deciding to join us for years of training or an evening at the theater.
Our faculty strives to create an environment that fosters creativity and learning as we create and develop work to showcase to the public. Our students work alongside professionals and learn by doing.
Our philosophy is to encourage recruits to identify programs that "fit" with their talents and dreams as they decide which college to attend. Much of what has attracted us to work in this program is likely to attract you:
University of Miami Theatre is strictly an undergraduate training program.
Our students study directly with Professors, not graduate assistants. Our Professors remain active in the profession working in the country's leading regional theaters, in New York, and in film and television. Our students do not take a back seat to graduate students in casting, design assignments, directing opportunities, or in research opportunities.
Our student to teacher ratio is very low.
We offer the kind of personal attention that one associates with traditional theatrical mentorship. We know that the keystone to a superior education is an excellent student/mentor relationship.
First-rate productions are a part of our over-all curriculum.
All of our programs contribute to fully produced seasons at our Jerry Herman Ring Theatre, one of Southern Florida's most respected cultural centers. Additional projects are mounted in our studio theater or in collaboration with local producing organizations.
We have a long and impressive record of alumni success.
View our Alumni Biography page to learn more about our graduates. This is an important and supportive professional community.
The University of Miami is in one of the nation's most beautiful cities, Coral Gables.
This lush tropical setting supports an equally lush professional arts community and a vibrant multi-cultural population. In recent years, the world entertainment industry has shifted focus from traditional professional centers to Southern Florida. Noted in Premiere magazine as one of the nation's new film centers, the greater Miami area offers students real world experience with the best of the entertainment industry.
We have an impressive roster of visiting artists and professionals.
We have equal commitment to our Bachelor of Arts and Bachelor of Fine Arts students.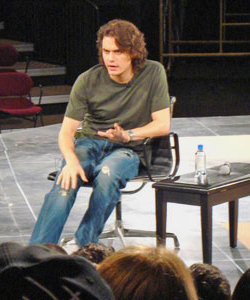 Singer - Song Writer John Mayer with students
during a Master Class at the Jerry Herman
Ring Theatre
A Bachelor of Arts Theater major receives experience in all the elements of the theater: acting, directing, technical design and production, dramatic structures, and the role of the audience as critic and consumer. These areas are enriched with study of dramatic literature, history, and a sense of the great movements in human thought and action. Additionally, the BA student experiences the breadth of the traditional Liberal Arts study. This undergraduate degree in theater serves the student as a broad base for any career choice and for advanced graduate study.
A Bachelor of Fine Arts degree in Theater offers more depth in the selected area of study and, perhaps, not quite as much breadth. This degree embraces its intention, which is professional preparation. While it is difficult to teach the artistic impulse or talent, it is important to provide students with the means to access their native talent through craft. A graduate of our BFA programs should expect to have been offered the skills that will make her/him competitive in the profession as it exists today.
In the end, your best college experience will depend on the "fit" of mentorship, environment, opportunity and your individual talents and dreams. Now that you have visited us on the web, we hope you will visit us in person and see firsthand why so many prominent actors, directors and designers have found their best fit at the University of Miami. We look forward to meeting you!
Sincerely,
Stephen Di Benedetto, Chair
Department of Theatre Arts